I remember, as a kid, running around downtown Lawrence, KS with friends.  I didn't always have much money with me, but when I did, we would make a stop by the photo booth at Woolworths.  Having photos of yourself and a friend was not an everyday thing, as it is now.  This was special.  Putting a few quarters in, drawing the curtain, getting situated in the booth, talking about how we were going to pose, and of course giggling.  After taking the photos, there was the waiting for the print, the anticipation.  I couldn't wait to see it, and show it around to my friends.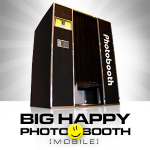 We try to recreate that whole experience.  A Big Happy Photo Booth is modeled after the nostalgic photo booths of our childhood, only bigger.  It's a hard-sided booth, that you enter, draw the curtain, choose some silly props, and push the button to start when you're ready.  Oh, and don't forget the giggling!  Afterwards, you stand outside the booth, waiting for your prints.  It's not a long wait, but long enough to build up some excitement.
That's what I love seeing today, as I run Big Happy Photo Booth events.  The fun, friendship, giggling, anticipation, and the excitement when the prints come down the chute.  Everyone grabs them, stops to look, and smiles.  Young and old, the enjoyment is always there.  I love seeing that expression.
I hope everyone finds themselves in a photo booth soon!
Brian Byers
Big Happy Photo Booth
Mobile Rental
www.BigHappyPhotoBooth.com